According to Military Hospital 175, the new hospital has an overall usable land area of nearly 70,300m2, with a total investment of VND2,500 billion from the Ministry of Defense budget.
The hospital has a scale of 1,000 beds with a synchronous and modern equipment system in diagnosis and treatment in order to provide medical examination and treatment services, technology transfer and high-quality human resource training, contributing to reduce the load of central and last-line hospitals in HCMC.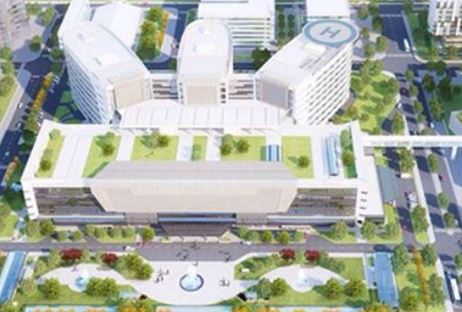 When in operation, the hospital has a main building with a 5-storey podium and three 9-storey tower blocks, with a traffic corridor connecting the towers on each floor. Total construction floor area is 119,720m2 (basement 17,273m2, floating floor 102,448m2), with 820 hospital beds.
Particularly, the building of the psychiatric ward, the infectious department, and the tuberculosis-pulmonary disease department has a scale of 5 floors, a total floor area of 8,460m2 with 180 beds.